Hello and thank you for visiting!
We pride ourselves on providing unparalleled service, and look forward to developing a long-term relationship with you. With over 70 years of combined experience, we will be able to meet all your real estate needs.
Please feel free to contact us to discuss how we can best assist you.
Sincerely,
Star Valley Realty Co., LLC
746 S. Washington
PO Box 248
Afton, WY 83110
Telephone: (307) 885-3892
Fax: (307) 885-3994
---
W. Tom Davis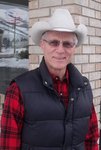 Broker/Owner
cell: 307-887-3892
W Tom Davis, has been the broker for Star Valley Realty Co. LLC since 1981.  Tom has held an active real estate license since May 1972 and has been licensed as a broker since 1975 in both Idaho and Wyoming.  If you are looking to buy or sell real estate in Star Valley, chances are that Tom has been on the property or near it during the past forty plus years.  Since 1948 we have been selling service.  Our goal is to protect your financial interests whether you are buying or selling.
---
Alan Lance Allred
Associate Broker
cell: 307-887-8888
---
Stuart T. Bringhurst
Sales Associate
cell: 307-887-8688
---
Cory Frome
Sales Associate
cell: 307-887-5865